Sparkling wine has become a symbol of party and joy. A wine that made an emblem from the name of the region of its origin. Only sparkling wines produced in the region of Champagne in France can be called Champagne. No other sparkling wine anywhere else in the world cannot use this name.
The first traces of wine culture in Champagne date back to the 5th century when the wine was produced by the Romans here, but the sparkling wine appeared first probably in the 17th century. A monk from the Benedictine abbey near Épernay, certain Dom Pérignon, contributed to the production of famous sparkling wine by changing the production method of rosé wines to white sparkling wines. Nowadays we know Dom Pérignon as a quality Champagne from the production of Moët & Chandon.
[schema.org/Article](http://schema.org/Article)
Three primary grapes are used in the production of Champagne and give each Wine its character: Chardonnay (mineral character, elegance), Pinot Noir (backbone and structure), and Pinot Meurnier (freshness).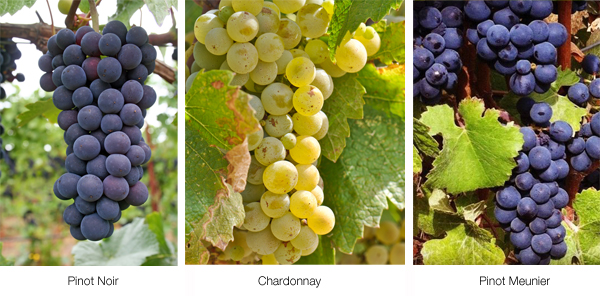 Image Source: www.vgulp.com
Which part of Champagne to visit?
Champagne is a diversified wine region due to different types of soil, position, sunshine hours, and slopes. Every part is unique and you should then know which part would you like to visit. There are 4 production areas in Champagne: Montagne de Reims (slopes South from Reims), Vallée de la Marne (valley of Marne), Côte des Blancs (narrow stripe South from Épernay) and Côte des Bar (in the Aube department). The grape varieties are present in the whole region, but we can say that one variety prevails in each part. So you will find predominantly Chardonnay and Champagne with the highest content of Chardonnay in Côte des Blancs, Pinot Noir mainly in Montagne de Reims and Côte des Bar, Pinot Meurnier is gowned in Valleé de la Marne. 
[schema.org/Article](http://schema.org/Article)
Image Source: Wikipedia
[schema.org/Article](http://schema.org/Article)
Types of Champagne
Non-vintage Champagne is a mixture of grapes from various years, vineyards and grape varieties. Vintage Champagne contains grapes of a certain vintage, but different grape varieties and gapes from different vineyards can be blended.
Millésimé is a wine produced from great vintage grapes and needs to mature at least 3 years, it is a good wine to accompany well meals. It is also a great wine to keep for years.
Cuvée de prestige is a unique Champagne of legendary vintage, it is very expensive, but it guarantees you the best.
[schema.org/Article](http://schema.org/Article)
Rosé Champagne is produced either by adding a percentage of red wine to the Champagne, or by mixing the skin of Pinot Meurnier or Pinot Noir into the pressed juice. The most known rosé from Champagne is the Rosé des Riceys and in good vintage this one is one of the best French Rosé's.
Blancs des blancs is produced exclusively from Chardonnay grapes and it is a very fresh wine with fruit tones. 
Champagne wines also differ in terms of the amount of sugar they contain. Extra Brut contains the least sugar (max. 6 g/l) and not that many people like them. Brut contains less sugar (max. 15 g/l) and as a young wine, it's a very fresh sparkling wine suitable as an apéritif, while older Brut is less fresh, more spicy and full, suitable to accompany meals. Not that often used label Sec contains more sugar (17-35 g/l). Demi-Sec is already a sweet wine (content of sugar is 33-50 g/l) and in case of Doux the content of sugar is the highest (min. 50 g/l).
[schema.org/Article](http://schema.org/Article)
Visit the local producers!
Of course, you need to visit at least one of the big famous houses that you may find in Reims or Épernay. In Reims, you can visit for example Taittinger or Vranken-Pommery. In Épernay, houses such as Möet & Chandon, Perrier-Jouët, de Castellane and others are concentrated on the Avenue de Champagne. You'd better check their websites in terms of opening hours and the possibilities of a visit. Personally, I can recommend the visit of de Castellane, where you can visit a museum of Champagne and then a guided visit shows you the production and cellar, tasting included. 
[schema.org/Article](http://schema.org/Article)
You should definitely visit the small producers – either the ones you pass by, or the ones that are recommended to you by the locals. Maybe you will discover even a better drink than from the famous brands. If you call them first to let them know that you'd stop by, they will take their time and show you their production and let you taste their wines. Also, you are free to discuss with people whose passion is their job. 
Champagne is not only about wine!
Visitors are coming to Champagne first of all for the sparkling wine, but this region is not only rich in terms of wine, but also from the historical point of view (you can discover monuments from Roman times and WWI) and nature (you can find lakes and nature parks here). Champagne is great for biking trips too. Among the towns to visit are Reims – the most populated, Chalons-en-Champagne – the capital of the region, Troyes – historical town, Les Riceys – charming village, Essoyes – Renoir's village.
[schema.org/Article](http://schema.org/Article)
Where to sleep?
Apart from hotels, you can go for bed and breakfast or guest houses in the countryside, far from the cities. As per my experience, it has always been such a pleasure to stay at locals' in a charming house in a cute village or on a farm in the middle of fields. The rooms are usually nicely decorated, the owners are very nice and talkative, and the breakfast contains usually homemade jams, yogurts, bread, cakes and you may taste local products such as cheese, sausages, fruit from the garden etc. The best site to search for the guest houses is Cybevasion.fr or chambresdhotes.org.
Personally I can recommend:
Côte des Blancs: farm Les Chambres de Muguette near Épernay offers rooms in the house of 17th century, decorated in the charming countryside style. You can use also the garden. The lady is very nice and hospitable.
[schema.org/Article](http://schema.org/Article)
Côte de Bar: farm Les Furets between the towns Troyes and Chaource. The owner Patricia is also a very nice lady. Her breakfast is 100% either homemade or regional products. Thanks to her I discovered delicious local cheese Chaource.
 
When to go?
I think the best time to visit Champagne is spring, summer or the very beginning of September. The cellars are open usually during the whole year, but you will experience the region best under the sun – with green vineyards full of grapes, holiday atmosphere, and of course, do not forget about a picnic in nature! 🙂
[schema.org/Article](http://schema.org/Article)
From my experience, I recommend you to avoid the harvest, which is usually one week in mid-September. At that time, whole families are busy working and boutiques are usually closed. You can still visit some that are supposed to be open (official list to be received in the tourist office or in the guest house), but even then it is not sure if they open you when you call one hour before. From 6 producers (supposed to be opened as per the official list) we called, only 2 opened us door. 
Are you in Champagne on Sunday? Be careful as many of the producers are closed. In Épernay for example, only very touristic Mercier and more traditional de Castellane are open. If you want to visit local producers on Sunday, some of them might be open or even if they are usually closed but home, they may find some time – just call them first.
And what about driving?
Beware of cameras on the roads in France and never drive faster than the maximum speed. You are allowed a maximum of 0.5 mg/ml of alcohol per liter in your blood in France. If you are caught with 0.5-0.8 mg/ml, you will be fined at least 135 EUR. If you have more than 0.8 mg/ml, you may be asked to stop driving for the next 3 days and paying high fine. 
[schema.org/Article](http://schema.org/Article)
And one more thing. The below sign is very popular in France (especially during the spring and summer months)  and it says that the road is closed. According to the Murphy's law, the sign usually appears 5 minutes before you are supposed to reach your destination. 🙂
And now what about you? Do you like Champagne? Have you ever think about visiting Champagne? Are you going to do so? Which area would you like to visit? I hope this post make you feel like visiting this wonderful region! Santé! 🙂
[schema.org/Article](http://schema.org/Article)