If you spend the summer in Belgium, you might wonder how the Belgian coast looks like. Here are 4 main seaside destinations in Belgium and what to do there. Even though the Nord Sea is a crossroad of fishery and petrol traffic, and therefore is not neither the cleanest nor the nicest or warmest one, it has its nice sides too and it is worth visiting. During hot summer days, a sunny and windy beach may be a nice escape from the humid and warm Belgian cities.
Before you go to the Belgian coast, be aware of 2 rules:
Rule #1: The sun does not visit Belgium that often, so once the sun shows up, 90 % of the inhabitants migrates to the coast. Expect big traffic jams and trains full of people.
How to get there: In case of no traffic jams, you can head the coast in 1-2 hours by car. If you want to avoid traffic jams and parking problems, and you don't mind to risk that you will need to stand in the train, you can go for the public transport option. The majority of the sea resorts are easily accessible by the train from Brussels. In case you would like to discover more than one place, you can use the coastal tram ('Kusttram'), which is the longest tram line (with 68 stops) that operates alongside the whole Belgian coast, from De Panne (close to the French border) to Knokke (close to the Netherlands' border). More info about the tram service here.
Rule #2: There may be a huge difference between the weather in the capital and the coast. Check the weather exactly on the spot you plan to go, otherwise you might end up crying that you had lost one day.
It happened to me that once 30°C was announced, so I automatically escaped with a friend to the sea-side. We sat on the beach and waited for the sun to show up for at least 3 hours. It was around 19°C and windy. Ok we had a picnic at the beach at least. But when the rain joined us later in the afternoon, we took the first train back to Brussels and enjoyed a sunny evening with 25°C in the capital. How ironic.
Top Destinations at the Belgian Coast
Belgium offers 65 km long coastline with 14 resorts. You can not only take a sun bath on the beach, but also enjoy a true holiday atmosphere on the beach promenades, have some fresh sea food or fish in a nice restaurant with sea view, take a bike or horse tour in the environment, or a walk alongside the sea or in the dunes.
Image Source: www.lacotebelge.be
Oostende: Cosmopolitan and Maritime
Probably the most known sea resort in Belgium, Oostende is a one of the biggest Belgian sea resorts with maritime atmosphere, 9 km of sandy beaches and a long beach promenade. But it is also a cosmopolitan city with high-rise buildings that offers much more than just sea, sunbathing and sports activities: you can visit museums, relax in the spa, do some shopping or attend concerts or festivals. Through the whole city, you will find fish stands where you can get some sea food and fish for your picnic on the beach.The beach is wide, well equipped, family friendly and is easily accessible from the train station.
Image source: http://pieterbie.skynetblogs.be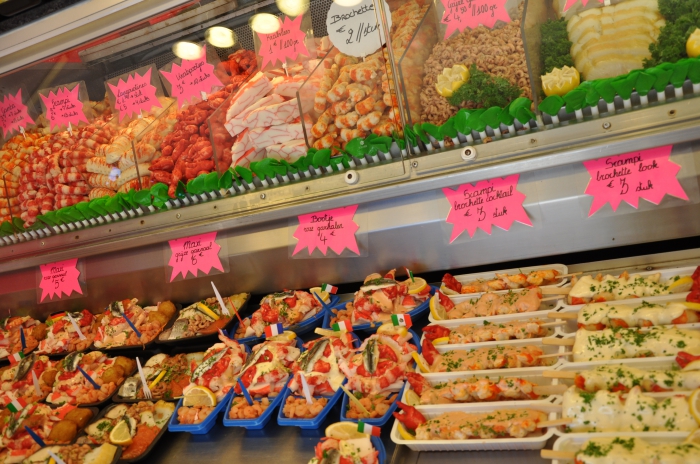 Image source: http://www.vliz.be
Knokke: Chic and Classy
White villas, luxury cars, fashionable shops, chic bars and restaurants, well-dressed people. Knokke is a very popular summer destination in Belgium, a chic sea-side resort. You find 5 different beaches here that are very well equipped (bars, terraces with beds, volleyball, etc.). The city offers great shopping facilities as well as cultural and sports activities. You will love the authentic architecture as well. Knokke is one of the nicest places to go in the summer as there is a lot of events going on, but sometimes during the weekends it is overcrowded.
De Haan – Charming and Calm
De Haan is a charming sea-side resort with plenty of cottages in Anglo-Norman style and no high-rise buildings as you see in big cities such as Oostende. De Haan lies close to the nature reserves and there is lot of walking and biking circuits. If you prefer to explore the coast on a horse, this is the right place to do so. The horse will take you not only alongside the sea, but also to the dune forest.
Koksijde: Dunes and Nature Paradise
The resort offers some cozy restaurants, small museums, cultural events and sport activities. I love Koksijde especially for its high dunes and extended nature reserves. If you don't like a crowded beach, you can find some spots for sunbathing in the highest dunes on the Belgian coast (around 30m) just a few meters from the resort. Koksijde's environment offers up to 10 walking circuits and several biking routes, you can even rent a bike on several places in Koksijde. Sometimes during high tides, you can apparently see seals here on the beach.
No matter where you go, don't forget to rent a quistax to enjoy the promenade on 4 wheels together with your friends, love, or family.
If you do not feel like being stuck in the traffic jams or full trains, you may opt to go to Zoutelande in the South of Holland, which is about 1h 20min by car from Brussels and usually, there are lesser traffic jams on the road than when going to the Belgian coast. More about Zoutelande in one of the next posts!
Have you visited Belgian coast? If so, please comment and share your impressions – how did you feel about, which other sites did you like?